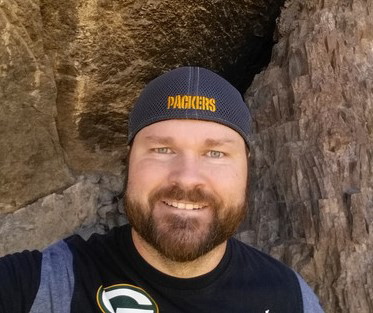 My name is Gerald Guss, I'm a freelance photographer in Las Cruces, NM and the owner of Double G Photography. I'm an IT Technician by day and an amateur photographer in my spare time. My photography passion derives from hiking and sightseeing across the Land of Enchantment (New Mexico). I hope you enjoy my work!
Born and raised in Las Cruces, Gerald Guss has spent his entire life in Las Cruces. Mr. Guss, who is colorblind, has always loved being surrounded by all of the breathtaking sights that exist here in the Land of Enchantment, many of which have become an influential part of his photographs. Gerald has always had a fascination with photography and thoroughly enjoyed taking pictures with his point and shoot cameras in the past. However, Gerald never took his photography very serious until the summer of 2016. That is when Gerald took a big step by purchasing his first "real" camera, a Nikon P900, for his upcoming cruise to Alaska followed by a trip to the 2016 Summer Olympic Games in Rio de Janeiro.
It wasn't until the following summer that Gerald would take the next step in discovering his photography potential. Gerald, a Type 2 Diabetic, had started walking and jogging 3-7 miles daily to counteract his high blood sugar levels and weight. It didn't take long for Gerald to get bored of walking the same routes every single day. Finally, Gerald decided to start taking hiking trips around the Las Cruces area on his weekends off. It was at this point that Gerald discovered his love of hiking and nature. It didn't take Gerald very long to take his Nikon with him on these field trips as well. Gerald quickly discovered that photography had an added benefit of relieving stress. Gerald's stress was another key factor for having high blood sugar levels.
Shortly after starting these hiking excursions, Gerald, a local IT Technician, began editing his pictures and posting them on his social media. Friends and family quickly inspired Gerald to submit pictures into the Southern New Mexico State Fair. Doing so resulted in multiple ribbons for his work and led him to join the Dona Ana Photography Club. It didn't take Gerald long to make a splash in the photography club. In his 3rd meeting, Gerald captured ribbons for 2 out of 3 pictures submitted in the Photo of the Year Contest. Photography prints done by Gerald can be found at three Memorial Medical Center clinics around Las Cruces. Gerald's introductory art gallery will be held at the Rio Grande Theatre this September.
Beauty is all around us! In nature's captivating scenery, it's those hard to reach locations or unique places you didn't even know existed. Photography is the opportunity to share these remarkable sights that I have found during my numerous
adventures
. These images represent those moments and give them new life through your eyes.
Explore. Capture. Create.